Xenogen - IVIS ® Lumina II
The IVIS Lumina II from Caliper Life Sciences provides an expandable, sensitive imaging system that is easy to use for both fluorescent and bioluminescent imaging in vivo. The system includes a highly sensitive CCD camera, light-tight imaging chamber and complete automation and analysis capabilities.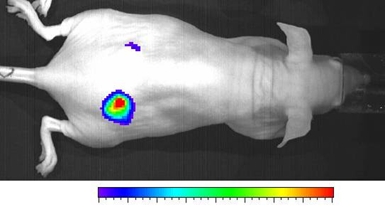 Application
The IVIS System are utilised in all area of biological and medical research.
Download the presentations below or contact us for more infomation:
Specification
| | |
| --- | --- |
| CCD Sensor | Back thinned, back illuminated |
| CCD Size | 1.3cm x 1.3cm |
| Pixels | 1024x1024 |
| Quantum Efficiency | 85% |
| Min detectable photons | 100 photons/s/sr/cm < sup > 2 < /sup > |
| Min Field of View | 5cm x 5cm |
| Max Field of View | 12.5cm x 12.5cm (Option to 23cm) |
| Dark Current | 2x10-4 electrons/s/pixel |
| Lens | f 0.95 50mm |
| CCD Cooling | Cooled to-90 & deg;C Absolute |
| Integrated Gas Anaesthesia | Yes |
| Animal Managment | As Standard |
| Fluorescence Capability | Yes |
| Excitation Filters | 10 Filters |
| Emission Filters | 4 Filters |
| Background subtraction | Yes as standard |
| Software | Living Image Software with 4 licences |
| Dimensions | 48cm(w)x71cm(d)x104cm(h) |